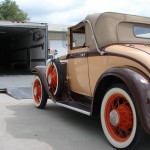 Founded in 2011, Plymouth Auto Transport is a motor freight transportation broker specializing in arranging shipment for individual and fleet vehicles. In addition, Plymouth operates as third party logistics management for inventory transfers between corporate dealerships.
We work within a network nearly 40,000 carriers strong bringing maximum exposure and a variety of services to our clientele. Be it a college graduate moving to an active job market or a seasonal vacationer looking for an easier mode of transporting their holiday car, Plymouth Auto Transport offers a dedicated professional service seeking to simplify the process of your personal transport.
The same goes for our business clients as we work with our trusted sources to supply any industry with a multitude of freight shipment options. Whether your need be intermodal, refrigerated, or standard van shipping, our representatives will work diligently to bring your company the best options available every time you call.