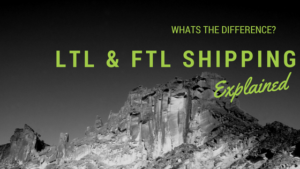 Shipping acronyms can be difficult to comprehend, especially if you are new to the industry. If you've never shipped anything in your life outside of companies like UPS, FedEX, or the USPS, it can be confusing and a bit apprehensive. If you're shipping over 100 lbs, there are two major ground-shipping methods you need to consider; Full Truck-Load (FTL), and Less-Than Full Truckload (LTL). Plymouth Auto Transport is going to break it down for you, so that you have the knowledge you need to make an informed decision for your shipping needs.
What is FTL, or Full Truck-Load shipping?
Full Truck-Load shipping is used for three major reasons; either you have enough cargo to warrant a "full truck-load" to ship, or you need a dedicated truck to ship your cargo, or you have high-risk or delicate items that should be handled as little as possible. Unlike LTL shipping, your truck won't stop to reload or pick up other shipments, which means that your shipment will get to its destination as quick as possible.
What is LTL shipping?
Less-Than Full Truck-Load shipping is a cost effective way to ship your goods. With LTL shipping, you're sharing a truck with other companies, and only paying for the space you take up on that truck. LTL shipments stop multiple times to load and unload cargo, so it will take your shipment longer to get to its destination, but you'll be saving on shipping costs. LTL shipping is more ideal with small business that don't need to ship lots of cargo all at once.
Which method is best for me?
When deciding which shipping method to use, it's important to consider a few things about your cargo: How much does it weigh, how big is it, how fast do you need it shipped, and are they delicate or high-risk items? (i.e. does it need to be temperature controlled, is it fragile?). If your shipment needs to get there fast, if it's large, or delicate, FTL is the way to go. If it's anything less than 10,000 lbs, if you don't need it expedited, and if you're a small company trying to save on shipping costs, LTL is a better fit.
At Plymouth Auto Transport, we accommodate all of your shipping needs from LTL, to FTL, NEMT, and government needs. Contact us today for a free quote!