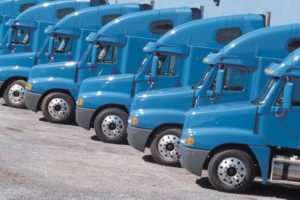 The US trucking industry was short 248,000 drivers at the end of 2017, and a mandate requiring drivers to replace paper logbooks with electronic logging devices by April 2018 looks to eliminate 10% of the long-distance drivers on the road today. That mandate was passed years ago with a December 2017 deadline, however the Federal Motor Carrier Safety Administration has extended the enforcement of that ruling to April of this year in order to allow owner operators and small fleet operations to equip the devices and be compliant.
As moving 70% of the nation's freight volume by weight is dependent on the trucking industry, this shortage stands to have a negative impact on much more than trucker availability for a vehicle shipment. We could be looking at more expensive food for example as companies like Tyson Foods, Inc. prepare for an uptick in freight costs by as much as $200 million in 2018. And it's not just driver shortage or the ELD mandate driving this increase in cost. Demand for trucking is encouraging trucking companies to charge as much as 30% more for the same shipment and route that they serviced only a few short months ago.
So, with the increase in demand and the shortage of drivers, pricing and availability is much more volatile for even the most established shippers in the industry. This affects individual shippers like those hoping to transport their car across country in a more substantial way. Auto transport is a niche within the trucking industry accounting for about 8% of overall shipments by value, and individual auto shippers make up roughly one out of every twenty vehicles shipped in the US. With such a small footprint, individual auto shippers like yourself are bound to the ebb and flow of the industry, and unfortunately, the best you can hope for is a broker that will help you navigate the limited options to ensure you're getting not only the best deal but also the safest option available. Supply and demand drive the price and availability, but only the best brokers will take the time to communicate the risks you may face in order to protect your interests rather than simply getting another shipment down the road.