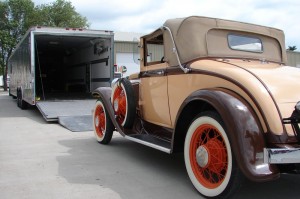 Enclosed auto transport is the industry's luxury treatment for your favorite automobile; this is the absolute safest way to ship your car. Your vehicle will be provided the maximum security and protection from all of the outdoor elements an open carrier would typically be exposed to. This is the preferred method of shipping expensive vehicles and classic cars, and with our Vehicle Tracking GPS device, you will have total peace of mind. Your vehicle may also be insured up to $250,000 during transit, and protected by our Damage Free Guarantee. This assures that you have nothing to worry about during the move. All carriers have been fully vetted by the staff of Plymouth Auto Transport, and we stand by our commitment to offer you the absolute best service available.
Complete the form below for a quote!
Plymouth Auto Transport is a Veteran Owned & Operated Business specializing in Open Auto Transport and Enclosed Auto Transport to Miami, Orlando, Jacksonville, Tampa Florida  Los Angeles, San Diego, San Francisco, California Dallas, Houston, San Antonio, New York City, Linden, Elizabeth, Seattle, Atlanta, Brunswick, Chicago, Denver and more! Enclosed Carrier Shipping available on request and is not the default.
Save